Two things have put me in mind of "eccentric sports" as of late -- a recent
BBC article on the subject entitled "The Lure of Eccentric Sports"
, and the attention paid to the "
Extreme Ironing Bureau
" in April 2011
after an enthusiast was spotted practicing the "sport" when the M1 was temporarily closed
. (All the video clips of extreme ironing that you never thought you needed to see are available
here
.)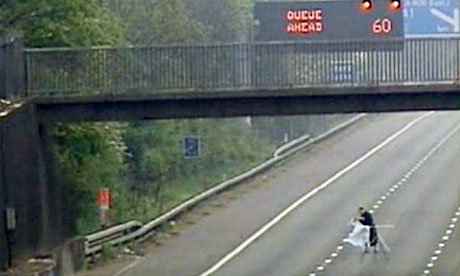 A Lone Enthusiast Practicing the sport of "Extreme Ironing" -- from the story in
The Guardian
Eccentric sports represent something quintessentially British, as reflected by those who participate in a wide variety of unusual endeavours: pea-shooting, wife-carrying, black-pudding throwing, woolsack-racing, worm-charming, egg-throwing, mud-racing, snail-racing, and cheese-rolling. Anything, apparently, which can be hyphenated may qualify as an eccentric sport.
For a few of these "sports" -- activities for feast days and holidays, some of which date back seven centuries -- the prospect of injury is part of the appeal. Take, for example, the various incarnations of "cheese rolling," primarily practiced in Gloucester. This event features men (and participants in such events are almost entirely male) essentially running/tumbling down a steep hill in pursuit of a large wheel of cheese. Broken bones are common, in fact they are almost expected. In the era of health and safety and (as critics would name it) "cotton-wool Britain," the world of dangerous and eccentric sport serves as a means of rebellion, a way to get one's inner
Jeremy Clarkson
in gear (
pun
intended).
The "eccentric" moniker of these sports is also seen as the epitome of Britishness. The inventiveness, sense of the ridiculous and sheer buffoonery somehow represents the opposite of the sensible and the boring. As an outsider to Britain, it is still surprising to the Idle Historian just how much of modern British life continues to be framed in opposition to, well, the Germans. If one can't quite imagine Germans engaged in cheese-rolling, then it must be truly British. Benedict le Vay, author of
Eccentric Britain
, explains the elements of British identity in this way:
It's part of British eccentricity. We get wonderful humour, off-the-wall explorers, wacky inventors and bonkers aristocrats out of the same tin, and we have a heck of a lot of fun... People are wedded to tradition and will always find a way. World War II didn't even stop Gloucester townsfolk from cheese-rolling, who [with] rationing, used a wooden model cheese instead. It doesn't matter what we're doing or why, people get carried away in the enjoyment, and return again and again, daft or not...
Don't mention the war
. Another point most often unspoken is the old question of whether loudly proclaiming eccentricity negates the very notion thereof. Is not some of the charm of the true eccentric that they cannot fathom why others might deem them in the least bit out of the ordinary? The "
Eccentric Club
" of London, for example, highlights this very conundrum. All in good fun, of course, but how authentic can a highly self-conscious "eccentric" event truly be? Instead we doff our hats to the snail-racers and motorway ironing enthusiasts who believe it is all in a normal day's activities. In the end it is just a spot of amusement to brighten a dull world.
Read more reflections on history, idleness, and the art of living from the Idle Historian in To The Idler The Spoils