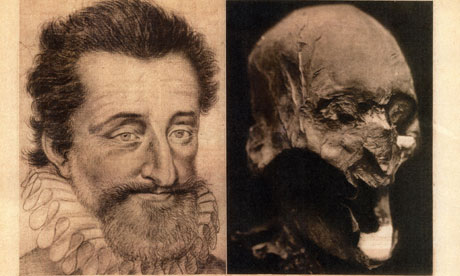 There seems to have been, for random reasons, rather a lot to do with Kingly skulls recently. I blogged some time ago about the
discovery of drawings of the skull of Richard II
in the National Portrait Gallery Archives in London.
Now comes news that the skull of the
French King Henry IV
has been returned to his descendants. The Bourbon King died in 1610, but his grave was pillaged in 1793, during the French Revolution, in an anti-monarchist act. The skull has apparently sat in storage since the 1950s, and has now been positively identified by a group of scientists as authentic.
The full story in The Guardian
.
Read more reflections on history, idleness, and the art of living from the Idle Historian in To The Idler The Spoils